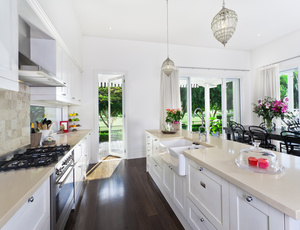 Our kitchen remodelers in St. Paul, MN, can help you update one of the most important rooms in any home so you can reap the following benefits.
Increased Value
Completing remodeling projects around the home can help increase the marketability and appeal to potential buyers. Each project will give you a different return on the investment. We've found that our customers experience the greatest return on their investment when they update their kitchens.
Energy Savings
Consider replacing your current appliances with energy-efficient appliances or a solar water heater, which can provide energy savings throughout the year. Another project that we can complete to provide greater energy savings to our customers is adding a skylight to the kitchen, which will reduce the need for turning on lights during the day.
Function
When we sit down with customers to make a plan for their remodel, we talk to them about their needs. What do they want to see in the kitchen? What needs to be changed in order to better meet their needs? Your kitchen should complement your lifestyle. If it's not providing enough space to cook gourmet meals or entertain guests, we want to make sure that the updates will meet the needs and lifestyle of the homeowner.
Safety
Changing the layout can be a great way to reduce safety risks. Kitchens tend to be the site for all sorts of safety issues. We can help you determine a layout that can reduce such risks. For example, many of our customers try to improve safety in their kitchen by modifying the counter heights.
Storage Space
One of the biggest complaints about the kitchen is that it doesn't have enough storage space. Homeowners lack the space they need to put away their dishes, small appliances, and other things. Remodeling can help add the much-needed storage space, which can help homeowners get organized.
Entertaining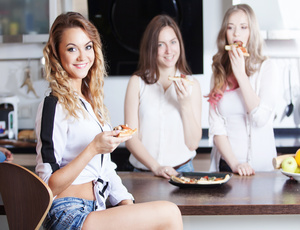 Another complaint that homeowners have about their kitchens is that they don't have enough space for entertaining. Guests come over and they're standing over one another. Or the layout makes it difficult for people to really enjoy one another's company. Whether we need to help you modify the layout or create extra entertaining space, we can help homeowners update their kitchen to meet their needs.
Financial Savings
Not only can homeowners save money through energy saving appliances, but they can also take advantage of rebates associated with buying these products. There are energy-saving rebates that are available to those who make the effort to change to energy-efficient appliances. Homeowners can also get rebates for trading in your old appliances. We encourage homeowners to research their options and find out all that the rebates and savings they can use when remodeling their homes.
With the many benefits of updating this room, we encourage you to contact us to speak with our kitchen remodelers in St. Paul, MN. We can sit down with you to discuss your vision for your kitchen. Whether you're looking to make the necessary updates to increase the marketability of your home, increase the functionality of the room, or create more storage space to help with organization, we can help you create the kitchen of your dreams.