If you are interested in remodeling your kitchen—adding vital space, style, functionality, and entertaining potential in an existing home—then you are about to embark on a whirlwind process. Part of this process can feel stressful or even scary; after all, remodeling involves tearing down before building up better than ever. However, kitchen remodeling in Minneapolis, MN, is also incredibly exciting and fulfilling. Witnessing over a short course of time as your kitchen transforms from dull to dramatic is a process with almost no comparison.
Clearly, there are endless reasons why you should remodel your kitchen. However, there are a few important considerations you should make before taking your first swing of the sledgehammer. Here are 7 important facts about kitchen remodeling all homeowners should know.
The Cost Is a Serious Investment
This is obvious; but like all smart investments, kitchen remodeling yields potential returns. The return on investment (ROI) for kitchen remodels can vary. The experts at Remodeling Magazine have found that the ROI on a kitchen remodel can be about 65%, making it one of the wisest investments you can make in your home. This is likely because new home buyers prioritize a home's kitchen when determining the quality and value of a house on the market.
There Are Fewer Rules than You Think
Despite what HGTV tells you, remodeled kitchens do not have to be sparkling white, chock-full of granite, and open to all 4 corners of your home. Simply put, your new kitchen can look exactly how you want it to! Whether you are a fan of blue walls, 2 islands, enclosed spaces, or anything else under the rainbow, your remodeling contractor can help you achieve a kitchen you will love.
You Don't Have to Tear It All Down
Another myth about kitchen remodeling is that you have to rip out all your cabinets, tear out any non-load-bearing walls, and scrap your appliances to make way for what is essentially a replacement kitchen. The word "remodel" does not always mean what you expect it to.
Don't give up anything you love. You can easily remodel your kitchen in phases, replace components, or make minor upgrades. If your budget is tight, start by improving the most damaged or outdated areas of the kitchen.
Cutting Corners Is a Terrible Idea
Even with a limited budget, you should never make updates the cheap way. Do not neglect checking your plumbing and electric lines for optimum functionality. Do not figuratively "paint over problems," or try to hide damaged spots. Issues like mold and a compromised structure can never be ignored.
It is therefore highly important to work with a kitchen remodeling company that you can trust. Unprofessional and unethical companies will cut corners but professionals will give you a quality kitchen that will last.
You Should Invest in Materials and Appliances First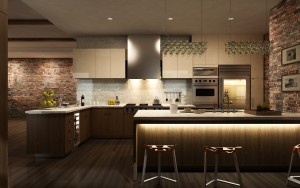 Never forget the importance of quality materials. Good materials differentiate an average kitchen from an exceptional one. For example, replacing laminate flooring with natural stone tile or upgrading your appliances makes for a superior kitchen, even when the aesthetic touches are kept to a minimum.
It's an Intense Time Investment
Be aware that a kitchen remodel is an intensive process, especially when the job is done correctly. While dramatic home makeover shows transform entire kitchens in the matter of days or reduce the process down to a 30-minute program, in reality it takes several weeks to perform a thorough kitchen remodel.
You Don't Have to Design It Alone
Designing a kitchen is more complex than it may initially seem. Far beyond choosing wall colors and tile patterns, there are technical engineering factors that play into a kitchen design. Don't fret; you do not have to draft blueprints yourself. Expert remodeling contractors will help you through every aspect of the process, including suiting your design dreams to your budget.
Kitchen remodeling in Minneapolis, MN, may seem intense or difficult, but a contractor will ease the process for you and make your dream kitchen come to life. While you should remember all of the 7 important facts above, the most important thing you should realize is how accessible a brand-new kitchen really is.