In terms of home remodeling a St. Paul, MN, home, you can increase its value exponentially by updating and improving your bathroom, especially if you do it right with some basic tips in mind. Whether your focus is on saving money or making your bathroom an oasis for rest and relaxation, Sawhorse Designer & Builders has the tips to help you create the space of your dreams. Here are our 10 tips for a bathroom renovation you never thought of that can make all the difference in the results you get.
Choose Durable Flooring
Many people choose to skimp on flooring in an effort to cut down on remodel costs. This is generally a bad idea. Your flooring will take a lot of use and abuse so make sure you get a very durable material such as marble or stone. You can install radiant heat in the bathroom to make things cozier for your feet.
Know How Important Lighting Is
The lighting in your bathroom is one of the most important features of your space. However, due to how people will be using the bathroom, you need to be sure that there are no shadows. The lighting should be halogen pot lights. If you install sconces, be sure that they are over the mirror or on either side of the mirror above eye level.
Remember Size Doesn't Always Matter
It seems that most people go for bigger tubs, bigger showers, and bigger vanities for their bathroom remodel. A bigger bathroom seems to be the dream of many. However, you can save space and actually make your bathroom look more spacious when you don't automatically choose the bigger elements. As a rule of thumb, try everything out before you purchase it. You will likely find that bigger might mean you have less space for things you really do want.
Sweat the Small Stuff
In terms of your bathroom remodel, close attention to the minor details is paramount. Straight lines and smooth finishes work best for modern styles, while curved lines and vintage features look best in a classic design. Take these things into account when you are polishing your renovation. Even the small things such as the curve of your tub and the faucet you settle on for your sinks.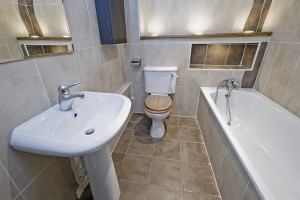 Use Hidden Space
The space between wall studs gives you a perfect opportunity to incorporate extra storage into your bathroom. As large as your available space might be, having additional storage is always a great option to consider, and it will ultimately increase the resale value of your home.
Make It Luxurious
A bathroom is a great space to incorporate some luxury when home remodeling in St. Paul, MN. Bathrooms are much more than just a space to clean yourself and take care of business. More and more, people are outfitting their bathrooms with televisions, exercise equipment, sitting areas, and more. You don't have to have a lot of square footage available in your bathroom to make a luxurious, comfortable space. Even a comfortable chair and a small TV can give you the bathroom you always dreamed of—your own spa-like retreat to relax at the end of the day.