Renovate with Confidence, Partner with a Pro
Deciding to renovate your home can be stressful. Where do I begin? Who do I talk to? What is the cost
The dilemma of "so many questions" can be discouraging, causing the homeowner to give up rather than pursue the home of one's dreams. There's no need to be discouraged.
A Twin Cities top remodeling company—Sawhorse Designers & Builders – provides comprehensive professional guidance on the renovation process, including design advice on form & function from a Sawhorse senior designer with 30 years of experience.
The Zen of Home Improvement
When considering your home improvement project, planning and preparation are crucial to complete the project within budget, and on time. But there is a larger underlying component.
Families typically pursue home improvements when their living space no longer compliments their lifestyle.
When average remodelers plan the project as they see it,  it may not be what you're looking for. A mindful approach to home improvement results in much more than extra space. Thoughtful contemplation on what you really want, or need, can start with these questions:
Where is the new room being added? Or, where might the room be added?
We want the new room to feel like it's part of the existing home; we want it to feel like a seamless transition from the existing to new structure.
What is the purpose of a new room?
I'm working from home more often. Our grandkids spend the night. Where do I put the dog stuff? Knowing how you want to use a new room will yield more than square footage; it should fit seamlessly with your existing home and enhance your lifestyle.
Can needs be fulfilled without adding a room?
If a new room won't suit your home's layout or improve your lifestyle, then maybe you don't need an add-on after all, perhaps simply better organizing existing spaces will work for you.
Time to Talk!
Your team at Sawhorse will help define exactly what your home needs through what we call "the investigation process." This involves more than drawings, blueprints and renderings: it requires talking with you, and most importantly, listening to you. By taking the time to discuss your vision, we aspire to render designs that deliver what you want and need, and enhance how you live in your home.
For instance, prospective remodel clients will explain how their home needs more space, or an additional bedroom, or updates with contemporary design. In response, some designers or renovation companies may downplay or even skip the investigation process, and instead develop plans without engaging the homeowners. This almost always results in plans that do not meet a family's functional needs or plans that become increasingly expensive and over budget. Either way, those plans would not meet your needs and need to be redone.
Our approach requires listening and connecting with clients to sincerely understand their space needs and visualize possibilities. We have our minds set on achieving optimum results for better living!
The Sawhorse Team Concept: Partners and Problem-Solvers
Our goal is to understand how you live in your home and then help you visualize a remodeling project that best suits functions, aesthetic and your budget.
"Many of my clients initially perceive a general solution to the problem, but this might not actually be the most efficient, best solution or least expensive," states a Sawhorse designer.
To best explore options that will maximize your home renovation, you need designers and builders who will partner with you as problem-solvers. At Sawhorse, our "team concept," approach involves multiple people to support the client's decision making.  This personalized service provides creative collaboration with input from; designers, architects, project managers, interior designers, woodworkers and more. Working together, our team aims to deliver surprising, unique and innovative design to suit customer needs.
Renovation and Transformation: Start to Finish
When considering your project, your Sawhorse designer will streamline the steps to make your project happen. From initial ideas and concept renderings, to job execution… our goal is to create a renovation that transforms your space and life.
Here's what to expect:
As a prospective client, you'll connect with a coordinator who captures your project premise and then creates a general outline. Next, we'll send a client questionnaire to ask pointed questions about your project specifics.
You'll be connected with a designer who will either develop a streamlined project timeline OR set up a meeting where you'll do 90% of the talking– telling us what your needs are, helping us to understand you and your home.
Your designer will invest their time, patience and expertise, walking through your home to visualize how to best execute your project.
Once the walkthrough is complete, your designer will develop inspiration boards to present material selections or other enhancements to bring a project to life. The intent is to fine-tune the plans—staying close to original ideas without compromising the integrity of the home nor adding too much to costs—while culminating a vision that is clear and achievable.
Ultimately, your designer will meet with you to review project plans and outline a clear concise proposal of scope of work, after which working drawings will be drafted. The entire process should culminate in final drawings and specifications that illustrate the project in entirety and define its timeline with milestones.
And how does this play-out in reality?
Case Study: The Cheshire Project
The Cheshire home is considered a major addition and extensive remodel. We cite this project given its wide range of renovations and updates.
In the Cheshire home, Sawhorse is adding a new bedroom, bathroom, third garage stall, and a crafts room which will function as a workspace for the homeowner. The home exterior will also be completely renovated.
Here are some "before" images: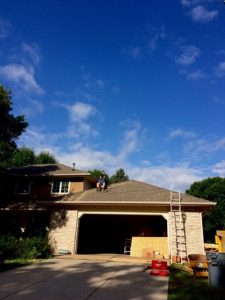 The home is a traditional 1980s two-story home, with 4 bedrooms and 3 bathrooms. The homeowner decided that she wanted additional space and – after a lengthy selection process – chose Sawhorse for the project. Once the pairing with a lead designer was made, conceptual work commenced.
More to the Story
Our Sawhorse senior lead designer talks about his initial meeting with the Cheshire client:
"I went out on the appointment, met with the homeowner and reviewed with her what she wanted to add. She had a master bedroom suite that was previously done by another company, but wasn't meeting her needs. She wanted a larger master suite space, more features, with a soaking tub and larger separate shower. She also wanted more main floorspace.
"During this home review, I noticed she did a lot of crafting and that she'd been using her existing formal dining room partially as an office. 
"And so as part of her project I suggested creating this large multi-purpose room that she could use as a large event dining room, a craft room and an office. The goal was to develop a room with different uses, all in the same space, by using design and materials that could accommodate every function.
 "Often, in the dining room, our clients have chosen hardwood floor. Well, if she spills paint or drops glue, that's going to destroy the floor. So I suggested a product called luxury vinyl plank. That's a high-quality product that's nearly indestructible. It actually looks like wood and a lot of people can't tell the difference.
"So now I have a product that if she puts the dining table on it, it looks appropriate. She could cover it and have a craft table. The vinyl plank accommodates both functions without worrying about damaging the floor. Whenever I review with clients, I draw on their living experience and my goal is to understand their lives and what they do in their home. Then I try to apply design elements that meet those needs and make their home work better for them.
"This client has a 1980s home and wanted an updated look, there's a design element that she would like to incorporate into [the] home to give her that updated look, but at the same time, I am working with a 1980s house and unless I'm given an unlimited budget—I need to work with what I have. 
"My goal is to keep integration with existing conditions a high priority; I keep this perspective so the costs don't get too high. I also do this to facilitate our green/recycle approach at Sawhorse. We try to keep the existing structure and, at the same time, update the home. This helps keep costs down and save on material and overall length of completion.
"I then created renderings for her to react to and get ideas, suggestions and directions for the final rendering. Our goal was to start with the interior and then work our way outside the home."
Your takeaway? Form should always follow function… A lot of designers get this backwards!
The Cheshire project is underway!
Final Rendering Photo: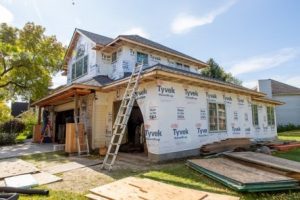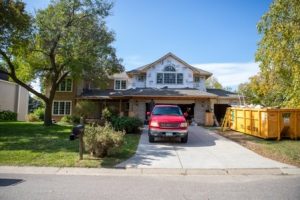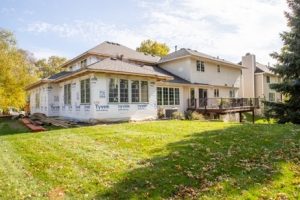 We can't wait until this photo becomes a reality for our clients. Stay tuned on the progress of our project in part II of the Cheshire Project blog!
Ready to Make the Call?
Home improvement projects vary greatly. You may wish to refresh a bathroom, add-on a bedroom, replace old cabinets in your kitchen, or undertake a full-blown complete house remodel.
One distinction to make about the Sawhorse approach is that we do work on any scale. Our goal is to develop a project that works best for you and your home, and we do this by getting to know our clients. So don't be afraid to reach out and schedule a design consultation…your remodeled dream home is just a phone call away!
To get in touch with our team–give us a call at #763-533-0352.
Or click here to send us a message.