Since we first opened our doors and began remodeling in St. Paul, MN, in 1977, we've come to love the work that we do. Why do we love it so much? Here are 5 reasons that we look forward to coming to work each day:
Variety
As you may have heard, variety is the spice of life. Our work keeps things spiced up! Each day brings something new. One week we'll be working to remodel a child's bathroom on one side of town, and the next week we'll be on the other side of town remodeling an upscale kitchen. We never know what tomorrow will bring. The variety keeps us learning about new ideas and developing new skills to stay on top of changing trends.
Challenging
Before beginning any project, we sit down with the client. We'll review the room in question and discuss their needs and vision for the room. Then, we meet with out design team. Some jobs are more challenging than others, but we love the opportunity to stretch our team. Design trends and techniques have changed from the time we first opened our doors, but we work hard to stay on top of the trends and find solutions for whatever challenges are put in front of us.
Creativity
In order to meet the challenges that we're faced with, we need to bring creativity to the situation. We love working with our creative design team to figure out how we can personalize each remodeling project and make it unique to the needs and vision of the client. We go through several steps of planning and review before we start the job. During these meetings, we work hard to figure out the intricacies of each design that will breathe new life to the space and solve issues, such as creating more space or organization.
Trust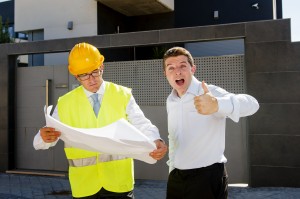 We love our clients. We enjoy getting to know them as we work in their homes. We're so honored with the trust that they give us. We know that the client will be spending a lot of time in their homes and in our designs. We don't take their trust lightly. We work hard to deliver the finished product that they can enjoy for the duration of the time that they're living in their home.
Customer Satisfaction
We love the look on a client's face when they see the finished product. That is truly the reason that we love what we do. They may start with just some ideas or a vision of what they want to have, but we love seeing their faces light up when they see their vision come to reality. We love hearing about how much they love their remodeled rooms. It makes all of the time and effort that we put into each job well worth it.
We've been remodeling in St. Paul, MN, for over 40 years now. In that time, we've continued to enjoy coming to work each day. We love the variety of the projects that we work on, even with all of their challenges. We love getting to be creative, working to make each client's vision a reality. And we especially love working with our clients and seeing their reactions when the job is completed.