This is a great time to think about remodeling in St. Paul, MN. There are a lot of reasons to consider this, the most important of which, in our opinion, is the additional value you can give your home. Remodeling in St. Paul, MN, is one of the best ways to increase your property value, as it will lead to many other advantages like a higher re-sale price, tax advantages, and an improved debt-to-income ratio. Remodeling efforts increase the value of your home for many reasons including, but not limited to, the following:
Increases the interior beauty: People are drawn to beautiful spaces. It is just how humans are built. We have seen many properties that we have beautifully remodeled that are quoted at a higher rate than other spaces with more square footage. Adding beauty to the space increases the emotional and physical value of the home.
Improves utility: One of the things we love to do when working on remodels is to make spaces more usable. We can improve the flow and put in features that will add convenience and utility to a room. These features are things that appraisers and estimators tend to look for when placing a monetary value on a property.
Updates the style: When you are trying to sell a home, you need to know that potential buyers will walk through the space and add up the amount of work they will have to do to make the home fit their needs. Keeping the style of your home updated will greatly reduce the amount of work others would have to do. This is a great way to increase the value of the property.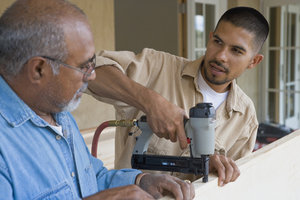 Repairs and prevents damage: In the course of remodeling, we take it upon ourselves to look for any structural issues that might be present. As part of our remodel, we will repair these problems. We will also look for potential future issues and put in some preventative measures for you.
Creates a better environment: When we come in and remodel a space, we want to leave knowing that we have created a good environment for you and your family. A space that feels warm and welcoming will mean a lot to you and your family. As you have areas to deepen your bonds, you will feel a stronger connection to each other and to your home. This is an ambiance that will be felt by all who come into the home, and it can work to increase the value of the space.