Redesigning any part of your home is a delicate and precise process, and this is especially true of the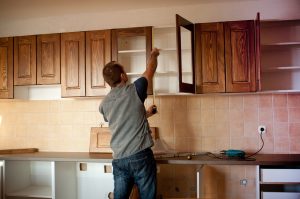 kitchen. If you're remodeling your kitchen, you want the finished product to not only be as beautiful as you imagined it, but wonderfully functional as well. Our Plymouth, MN, kitchen remodeling experts will work with you to ensure you get exactly what you want out of your remodel. Here's how we can help you create your perfect kitchen.

Creating a Design
Already have a design in mind for your new kitchen? We will go over it with you to see exactly how we can fulfill on that design. If adjustments need to be made to your existing design, we'll discuss them with you to find a final solution that works for you. And if you have no idea what kind of kitchen you want, we'll sit down with you and help you to design something that you'll love. We discuss everything with you frankly and openly so that there are no surprises and you're happy with the final product.
Material Choices
We also offer a wide variety of materials for you to choose from for your remodel. From countertops to cabinets, to flooring and back splashes, you'll have an endless array of options. You can pick exactly what you want or ask us for recommendations if you're not sure what will look good in your design. We're always happy to offer our expertise and advice so that you have a beautiful kitchen.
Communication throughout Construction
We will also communicate openly with you throughout the construction process. Sometimes, situations arise that require unexpected changes in a design, or other issues. We will always share these instances with you so that we can work together to find an alternative solution that is still completely satisfactory. And if you make any last-minute decisions regarding the design or materials for your kitchen, we're always available to speak with you about making changes.
Your satisfaction is our top priority. Contact our Plymouth, MN, kitchen remodeling experts and see how we can help you create your perfect kitchen.