Spring has finally sprung! With warmer weather finally here, it is finally time to start thinking about all those various projects you have been putting off because of the bitter cold of winter. Some of those projects may include fixing up various parts of your house. Here are some ideas for remodeling your Plymouth home. Consider these things to give your Minnesota home an updated and fresh new look for spring.
Update Your Façade
The exterior of your home is the first thing someone sees when they come to visit you. If it is fading, cracked or otherwise showing its age, it is probably a good time to consider giving it a new look. Remodeling the exterior of your home may be as simple as giving it a fresh coat of paint or as complex as completely replacing it with new siding, brick, or stone.
Replace Your Windows
If your windows are more than 10 years old, they are probably due to be replaced. Window technology has improved significantly in recent years, and new windows have the potential to significantly reduce your heating and cooling costs. Additionally, if you install new windows while updating the rest of the exterior of your home, it can give your house an entirely new look that is certain to impress your neighbors.
Renovate Your Kitchen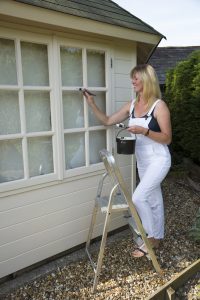 Now that warmer weather is arriving, it can be a great time to upgrade your kitchen. If your appliances are starting to wear out and your cabinets are showing their age, it's probably time for an upgrade. Replacing your kitchen is a great way to make your house look newer on the inside, and it is will also add value to your home, should you want to sell it later.
Upgrade to a Master Suite
If you have always dreamed of a bigger and better bathroom, spring is a great time to make that happen. Replacing linoleum and wallpaper with heated tile flooring and a beautiful tile surround can take your ordinary bathroom and turn it into a luxurious and relaxing oasis. Adding a soaking tub and a shower that sprays from every angle can give you the escape you need from the craziness of life.
Even if you have not been thinking about remodeling your home, now is a great time to think about the dreams you have for your home. Interest rates are at historic lows, and now is a fantastic time to make those dreams a reality. It is best to get your remodeling project in Plymouth started now, before the heat of the summer moves in.