If you're expecting a new baby but don't have a spare room to convert into a nursery, you may feel that your only options are to either build an addition onto your home or squeeze a crib in alongside your bed. However, there's one more option that many people don't consider–building an en-suite nursery in your bedroom.
Doing this takes a lot less remodeling than adding a full room to your home, and it will give you the necessary space for your new child. Your baby can have a designated space that can be closed off from your room, but that is close at hand for those late-night feedings and diaper changes. Here's how our Plymouth, MN, remodelers can add a nursery to an existing bedroom simply and easily.
Using Existing Space
If you have a large master bedroom, it may be possible to create an on-suite nursery without having to add onto your home. Ideally, you would want to have a large, nook-like space in your bedroom, as this would make it simple to divide off the area to become a small nursery. Some homeowners even choose to convert large, walk-in closets into en-suite nurseries, and this can work great as well (as long as you have another place to store your clothing, of course).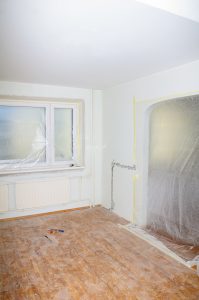 If you don't have such a space attached to your master bedroom, but it is large enough, our remodelers can simple add walls (or even partial walls) to section off this area from your bedroom. You can then use a set of doors or even just a pair of curtains to close off the new nursery space. Either way, the remodel will be quick, easy, and simple, but will still give you the space you need.
Adding More Space
If your master bedroom is not large enough to create a nursery from the existing square footage, it may be possible to build an add-on to your room. Of course, this is most easily done if your master bedroom is on the first floor, but we recommend speaking to a contractor to find out exactly what can be done for your particular situation.
When the add-on is built, it can be completely customized to fit your needs and desires. You can have as much space as you desire for the on-suite nursery, and add windows, doors, and other features as you see fit. When your children are grown, you can convert this space into a great on-suite office or sitting room. Obviously, this takes quite a bit more work than converting an existing space, but it is still much simpler than trying to add a full-sized room to your home.
If you are interested in building an en-suite nursery, speak to one of our remodelers in Plymouth, MN, right away, so the space can be completed well before your little one arrives.