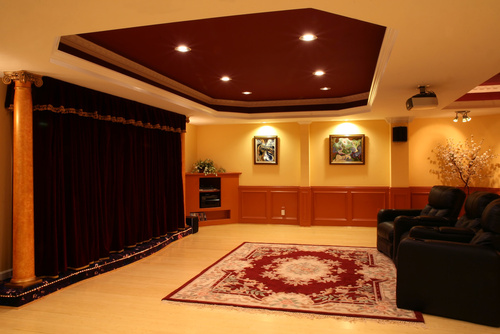 As Minneapolis remodelers, we love getting the chance to upgrade certain parts of the home. Helping homeowners make good use of their basement space is especially exciting. If you feel like your basement is little more than wasted space right now, then we have some good ideas that could help you get some good utility from this part of your home.
Food Storage
For Minneapolis remodelers, this is the least exciting entry in the article. We are listing it first, however, because we feel that it can offer a lot of good use to many homes. If your home is not one that offers a lot of space to store spare food and emergency supplies, then remodeling your basement area for this purpose is a really good idea. The world is facing more extreme weather, earthquakes, and other natural disasters than it has in a long time. Being prepared is a very good idea, and we can help supply your needs.
Movie Theater
This is far more exciting, and can offer you the chance to have some great memory making moments with your friends and family. We can help make this space the perfect area for cinematic experiences, and your home will become the place to be for all the big games. We can set up a projector, install some great stadium seating, and create the perfect ambiance and decor theme to make this something really special.
Craft Room
Is there a crafter in your home? The basement of your home is the perfect area to convert into a good workshop. Whether you need an area to store sewing supplies, an art gallery, or a wood working shop, we can help set up all the right equipment in a pleasing manner. Explore your hobbies with more gusto by dedicating a piece of your home to your talents and interests.
Guest Area
We love turning basements into guest apartments. It really doesn't take much to make this area of your home the perfect place to have loved ones stay. Let us get a look at your area, and we can let you know what changes need to be made to get a bedroom, bathroom, and sitting area ready. This is work we have done for many people who are looking to provide a place for their elderly loved ones to stay. This will make hosting a guest less of a burden for you, and more of a private getaway from them.
Game Room
There really are not a lot of places in your home where a pool table, ping-pong table, or giant TV for video games can go without interrupting the flow of all the other tasks that have to be done. In addition, these are not things that are generally thought to be aesthetically pleasing. Placing these items in a dedicated game room in the basement will give you the perfect place to get away from all the cares of the world. This is where you can go to enjoy some care-free fun, and will be able to house such intrusive pieces without them becoming a burden.
Home Gym
Having a good place to exercise in your home can help you keep the resolutions you made at the beginning of the year. If it can get hard to get to a professional gym on a regular basis, then you might want to consider letting us create a proper gym space right in the comfort of your own home.