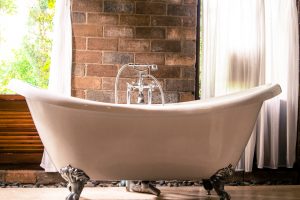 As remodelers in Plymouth, MN, we know that bathroom remodels are on a lot of people's do to list for this spring. We are loving some of the new trends that have been coming onto the scene. Each one seems to be timeless in nature, and there is something for every kind of personality and design type. The following is a list of 5 of our favorites bathroom remodeling trends.

1. Black and White Contrast
This creates a very clean and simple color palate. You can create the contrast with any combination. We like the white and black tile flooring and backsplashes. We also like black cabinets with white counters, or white cabinets with black counters.
2. Pops of Color
One of the biggest trends we are seeing in every room, but most especially in bathrooms, is a completely white palate with pops of bright colors thrown in. As remodelers, we have a lot of fun with this style. Once you choose the tone you want as your color pop, we can suggest all kinds of ways to throw the color into the white and cream backdrop. Flowers, tile lines, furnishings, tub surrounds, and many other things are all options.
3. Vintage Style
The old style is very in vogue right now. You can capitalize on this trend by letting us install a claw foot tub, vintage style tiles, and using classic looking furnishings like vases and lighting fixtures.
4. Natural Tone Palates
Wood is not the best thing to put in a room so full of moisture, which is sad as it can be so beautiful. That is why we love some of the new tile options that mimic the look of wood grain. It is a beautiful way to enhance a natural tone palate of browns and greens.
5. Shabby Chic
This is a style that has been made famous by celebrities like Joanna Gaines. This style includes shiplap walls, antiqued white cabinets, and other such things that look aged and classy at the same time.