A deck or patio is a great addition for any homeowners who love the outdoors.  You can have guests over to watch a game or entertain during the holidays or simply the next time you'd like to sit and watch your family play in the backyard.

Small Decor Pillows
By adding just a few new pieces of furniture – and especially some that can withstand the weather and damage that comes with being outside 24/7 – you can make your outdoor deck look completely new and welcoming an area with lots of humidity snow in the winter. You don't want to uncover your furniture made from heavy-duty outdoor fabric add screening or railing to it. A railing will also prevent your children and pets from falling off a patio or deck, especially if it is raised off the ground.
Screening or Railing
Another great addition is a screening, which encloses your deck. This is especially effective for creating a room-like feel, protects you from bad weather and pests, and protects your outdoor furniture, flooring, and other elements on your deck or patio especially if it has weathered a fair amount of sun and moisture over the years.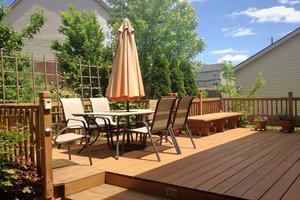 Flooring (Natural Stone, Concrete, Synthetic Pavers)
There are many different types of flooring available, depending on the area where you live. You can choose from natural stone, concrete, and wood, all of which add a beautiful look to the area. Be sure to choose a finish that will last a long time, especially if you live in an area with tough winter or summer weather.