If you are planning a big project in Minneapolis remodeling on your home, you might be getting swept up in the do-it-yourself craze. On one hand, having total control over your project sounds appealing. On the other, it's a lot of pressure and uncertainty, especially if you're new to aspects of remodeling. Which route should you choose?
Why DIY Is Appealing
If you're a crafty person or love to learn new skills in your spare time, it's easy to see why DIY would be so appealing. A couple of the reasons DIY is taking the Internet and design TV networks by storm are:
How often DIY calls for recycling or reusing as opposed to buying new things. Sustainability is in!
DIY means that you can take sole pride in a project. From beginning to end, it reflects your skills and abilities.
DIY can be cheaper because you don't have to pay for labor. You are absorbing the labor costs into your own schedule. If you're time rich but cash poor, DIY looks like an attractive solution to your remodeling needs.
There are so many new styles and trends that some professionals might not have picked up on yet.
All of these reasons, on the surface, look great. However, when you start delving deeper into how DIY works and whether it's really worth the time and money you'll spend on it, the appeal is partially an illusion.
Yes, doing projects in your spare time is fun. But how long will your project take? Will you be totally engaged from beginning to end? What if you mess up? Will your DIY project be cheaper if you have to re-do any part of the project as a result of beginner's hiccups?
What Can Go Wrong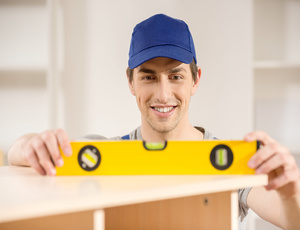 Painting, sanding, leveling, and a number of other remodeling techniques look simple on the surface. If you've done them enough, they probably do come easily. For the beginner, however, they are deceivingly simple. If you level a set of cabinets a few centimeters off, it will be apparent. Even if it's not glaring, the human eye is advanced enough to pick up on it. If you make a lot of tiny mistakes over the course of a remodel, once you get to a really important stage, they might all come together to create a huge problem.
If you make a simple mistake and have to replace supplies or spend more time working on the project, it will be a lot more stress and cost than you originally planned for. Many advanced DIY projects end with more expense than contracting with professionals. If you had to choose, would you rather have a job go right from the beginning, or have to be personally responsible for redoing it again and again until it's right?
The Advantages of Hiring Professionals
When you hire professionals for your Minneapolis remodeling, you can be sure about the outcome. Veteran remodelers will be able to show you examples of their past work and will present you with a lot of options that you might never have been able to find scouring the DIY blogs yourself. You can set a schedule and know that the job will be done in time. For less stress and pressure, along with guaranteed results, look into professionals for your remodeling needs.